A well-planned, well-conceived bathroom remodel is an important investment that can improve your home's value and make your home a more comfortable place to live. Whether you're simply making cosmetic changes to your bathroom, or expanding the space and adding a luxury component, a good bathroom remodel is worth the money.
Before you can start planning for your upcoming bathroom remodel, you should be aware of the cost. Knowing the approximate cost of your upcoming renovation can help you decide whether this type of renovation fits in your budget at this time. If you don't have the room in your budget for such a change, knowing the cost can help you save money for this type of remodeling at a later time.
Midrange Bathroom Remodel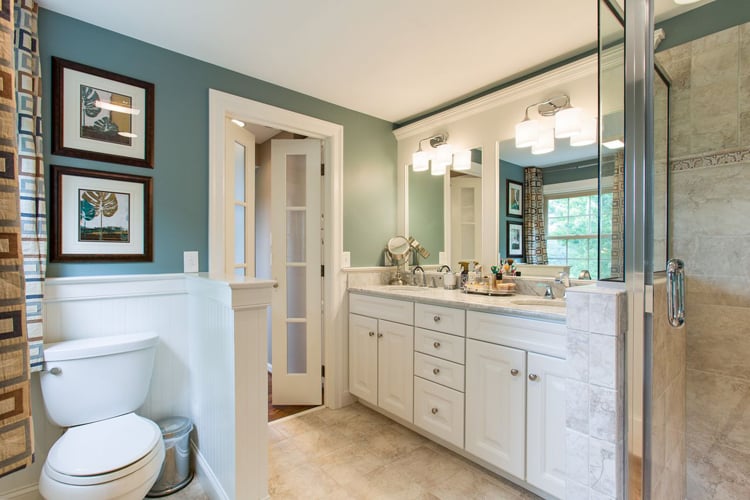 Midrange bathroom remodels focus on cosmetic changes to make your older bathroom more modern and beautiful. No structural changes are made during midrange bathroom remodels. Here's what you can expect from this kind of renovation:
Replace fixtures including bathtub, tile surround, shower head, and faucet
Replace the toilet with a new low-flow toilet, white
Update the solid-surface vanity counter with integrated sink
Install a new medicine cabinet and corresponding light
Install new ceramic tile floor
Repaint or install new vinyl wallpaper
Approximate cost: $22,954
Approximate ROI: 48.9%
This is a smart home improvement project if your bathroom is old but functional. If you're unhappy with the look of your bathroom and are simply ready for a change, a midrange bathroom remodel is appropriate for your home. This type of renovation can improve your home's value if you'd like to sell sometime soon.
Upscale Bathroom Remodel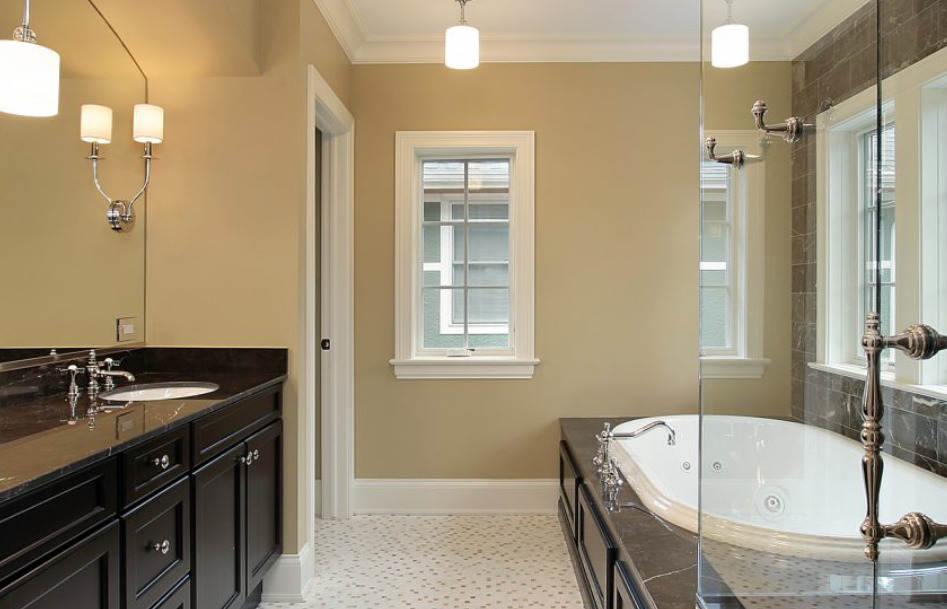 Upscale bathroom remodels focus on making luxury changes to transform the experience of using the space. This type of renovation may involve widening the space or rearranging the fixtures to make the bathroom more convenient, more spacious, or safer to use. Here's what you can expect:
Expand the size of bathroom to 100 square feet
Relocate fixtures
Install two medicine cabinets with lights, mirrored
Install new curbless shower with body-spray fixtures and a recessed shower caddy
Install frameless glass enclosure
Install a humidistat-controlled exhaust fan
Upgrade bathtub to freestanding soaker tub
Replace all faucets with high-end, designer faucets
Install stone countertop with his and hers sinks
Upgrade lighting for safety and beauty
Install custom cabinetry and electric in-floor heating
Approximate cost: $70,669
Approximate ROI: 50.7%
Upscale remodels turn your bathroom into a spa-like environment where you can enjoy a relaxing soak in the tub or a long, hot shower. With enough space for his and hers sinks, you'll be able to comfortably share this space with your spouse.
Factors that Affect Costs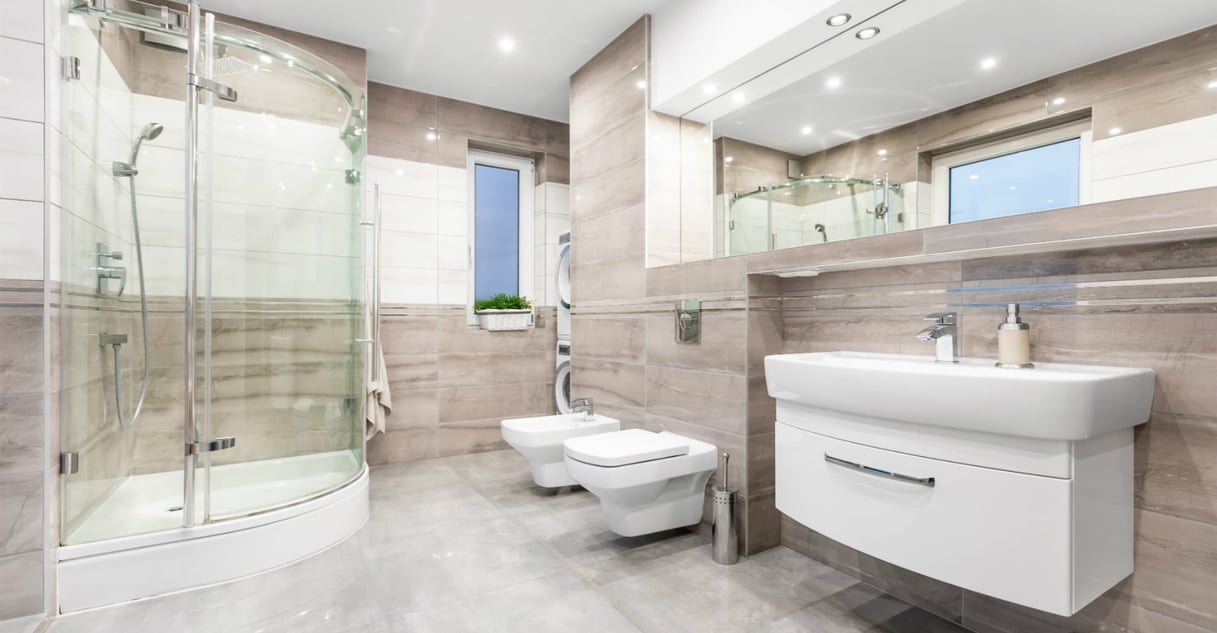 There are many factors that can raise costs when performing a bathroom remodel.
Structural Changes or Rearranging Fixtures
Any time you expand a bathroom to create more room, you can expect to spend more money on your remodel. Relatedly, if your bathroom remodel involves rearranging fixtures in order to use space more efficiently, you'll likely have to pay additional for that as well.
Installation of Custom Cabinetry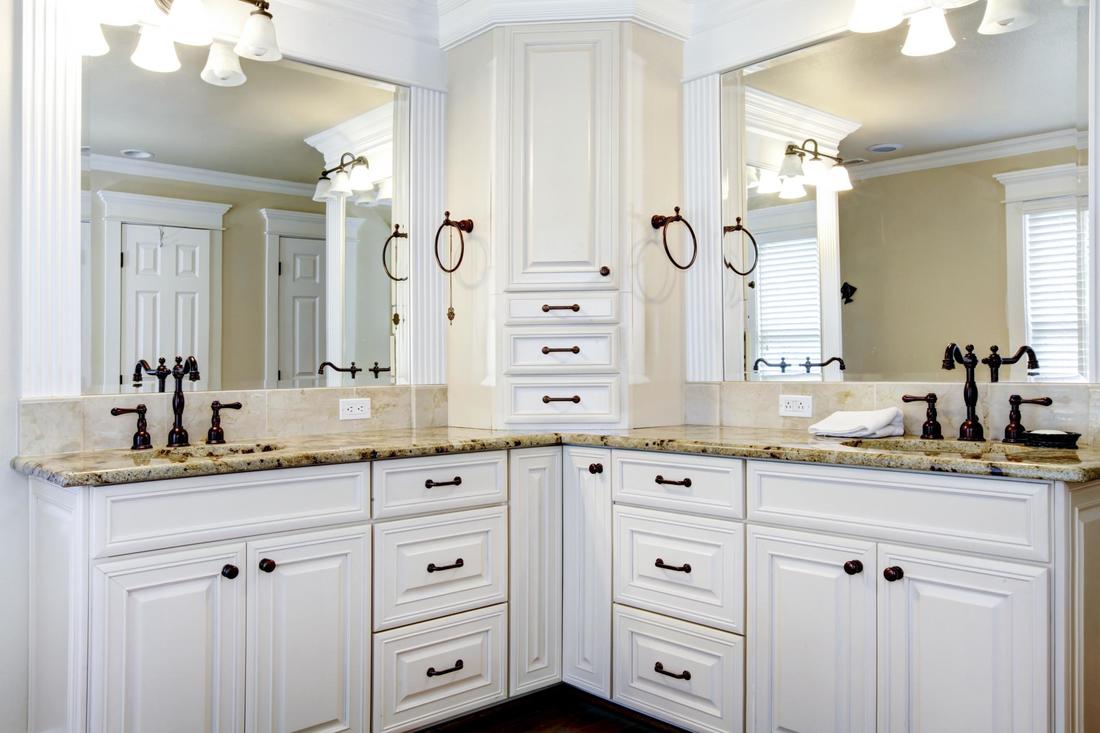 Custom cabinetry can be expensive! In a small room like a bathroom, custom cabinetry is sometimes necessary to make the best use of space. If you're on a budget but seeking creative solutions to make your bathroom cabinets as useful as possible, talk to your contractor about semi-custom cabinetry options.
High-end, Luxury Fixtures
High-end, luxury fixtures add value to your bathroom, but also raise the cost significantly. Plan to pay significantly more if you're installing high-end fixtures in your home.
Luxury Add-Ons
Do you want heated bathroom floors? Or maybe additional body-spray fixtures in your shower? If so, you'll have to pay for that. Luxury add-ons make bathrooms much more fun to use but can also raise the cost.
On a Budget? Tips to Save Money
It's possible to control costs when remodeling your bathroom, but it's important to do it the right way. Don't hire the lowest cost contractor just to save money. Low-cost contractors sometimes cut corners in ways that could have unintended consequences. Hire a contractor with good business practices, transparent billing practices, and a reputation for performing good quality work. Hiring a contractor with a good reputation can help ensure the work will be done right from the beginning. This can actually save money, considering that a low-cost contractor may do work that might need costly repair at a later date.
If saving money is important to you, there are several things you can do.
Shop around to find the best deal on bathroom fixtures and materials.
Make a list of bathroom remodeling goals.
Know your must-haves versus your nice-to-haves. Prioritize the things that will help you reach your remodeling goals, and add on other items if you can afford it.
Communicate your budget with your contractor to ensure that everyone involved in your project knows what you can afford.
Read all change orders when making changes to your design.
Avoid making changes to your design.
Avoid making structural changes and avoid rearranging your bathroom.
Finally, be realistic about the cost of your home improvement project. The cost of your bathroom remodel can be controlled, but if your budget is unrealistic, this may not be the time to remodel. Remember that a bathroom remodel will raise the value of your home, so if you choose to sell sometime in the next few years, you'll be able to recover your costs. In addition, installing eco-friendly fixtures can help you save money, which in turn can help you recover costs when your bathroom remodel is finished.
Contact Fine Home Contracting
Ready to get started with your bathroom remodel in Connecticut? Contact Fine Home Contracting. We can answer your questions, bid on your home improvement project, and help you get started. Call today.